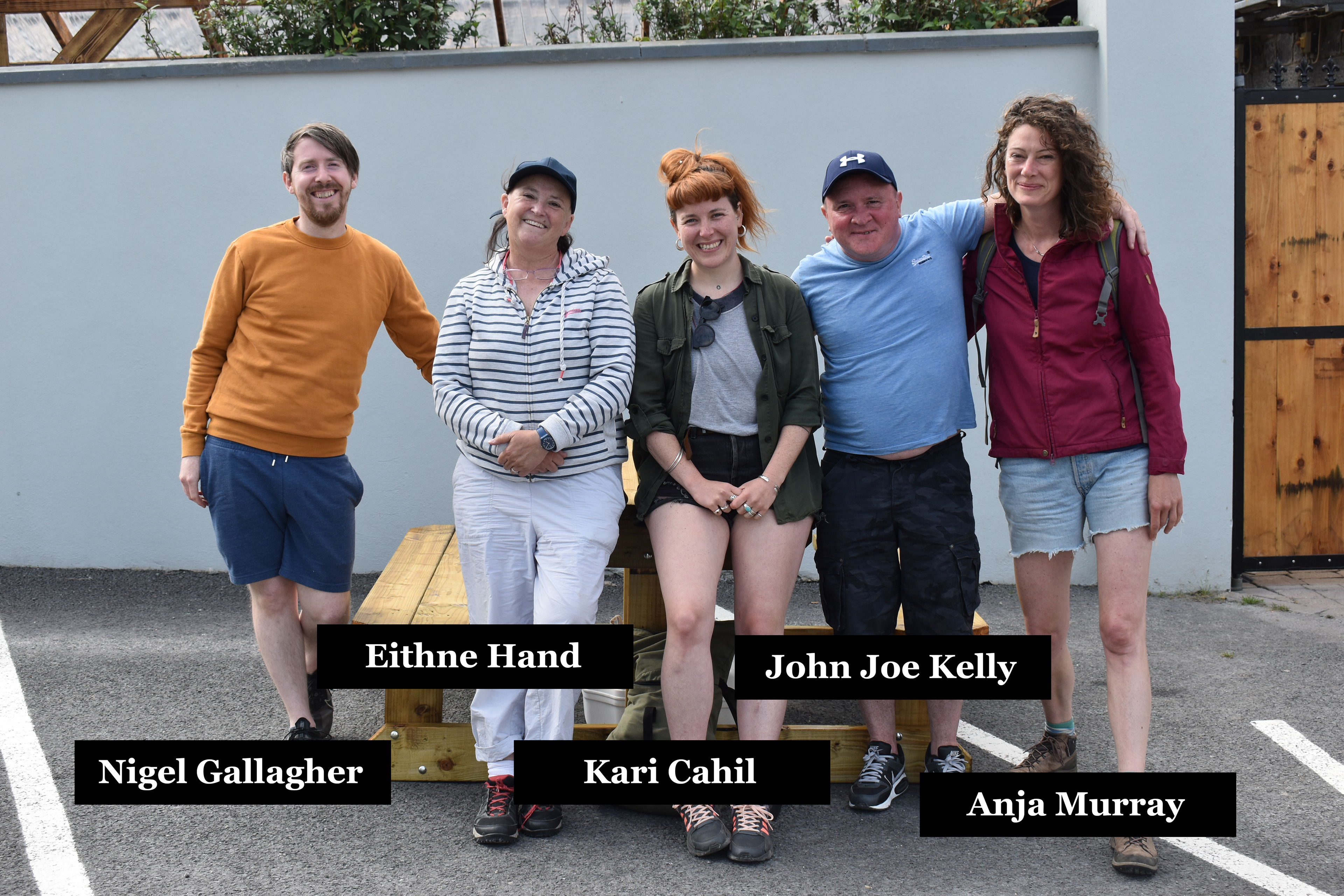 'Being asked to walk a new stretch of road, before it opens, and write a nature themed response, this was an intriguing invitation! Strolling the brand new tarmac on a sunny Sunday afternoon, I saw lots of details that I knew I'd never notice if travelling by car or bus. I decided to look at the landscape along the route from the perspective of some of the other species who live here.'
Anja Murray is an ecologist, independent environmental policy analyst and broadcaster. Anja is also an expert presenter on the popular television programme 'Eco Eye' on RTÉ 1, and has a weekly award winning radio series called 'Nature File' on RTÉ Lyric FM.
'This was a chance to do something different with another new stretch of motorway – a chance to remember the past and look a bit closer at the new 'present' before we all rush into the future and never glance around us. County Sligo deserves our proper attention. I don't think there is a better approach road to any other city on our island.'
Eithne Hand grew up in Co.Wicklow and is a writer and producer. She is currently one of the resident artists with the Hawk's Well Theatre. Fox Trousers, her first poetry collection was launched by Salmon Press in January 2021. Eithne worked in RTÉ TV and Radio for twenty years and was Head of RTÉ Radio 1 from 2003 to 2006. As a theatre producer, she tours the one man shows The Man In The Woman's Shoes and I Hear You and Rejoice, both written and performed by Mikel Murfi. She spends her time between Greystones and Ballinafad, Co Sligo.
'One sunny Sunday some months ago, I got an opportunity to walk an unopened new road, a type of road I'll probably never get to walk again...a motorway. The quiet of that space, soon to be crowded with its more usual occupants - cars, was both special and slightly eerie all at once. I couldn't but imagine the sounds that were to take it over and that is what inspired this new work. It was a fun Sunday and a fun piece of work to create. Thank you Eithne, and thank you Anja, Nigel and Kari. I will remember the day we walked the road for a long time to come.'
John Joe Kelly is one of the most sought-after bodhrán players on the folk music scene today. Constantly expanding the boundaries of what beats and sounds you can get from one small drum he is a member of the band Flook & has collaborated with musicians varying from Tim O'Brien, Kate Rusby and Dan Tyminski to Zakir Hussain.
Kari Cahill is a site-responsive visual artist living in Sligo. Kari's artistic practice contributes to the development of new perspectives on our cultural, historical, and natural landscape. She is Ireland's leading pigment forager - synthesizing natural materials into paint, pigment, and inks forms the backbone of her process-based painting practice. She is the Co-Director and Co-Founder of LaY of the Land - a site-responsive arts organization producing residencies and public art exhibitions in wild locations around Ireland. Kari participates as collaborating artist, curator, and producer.
'It was an interesting and quite surreal experience walking the 15 kilometers of fresh, unopened motorway. You really got a sense of how drastically the enviornment would change once it was opened. It was fascinating having the time to take in the detail of the landscape, sounds and animals - that would otherwise go unnoticed when driving by at speed in your car. Certainly an expereince I will remember forever.'
Nigel Gallagher is Graphic and Motion Designer based in Sligo, Ireland working for the Hawk's Well Theatre, People Before Profit and also as a freelancer. Nigel has a degree in Graphic Design and Digital Media and has extensive experience in print design, motion design and video production.
​​​​​​​