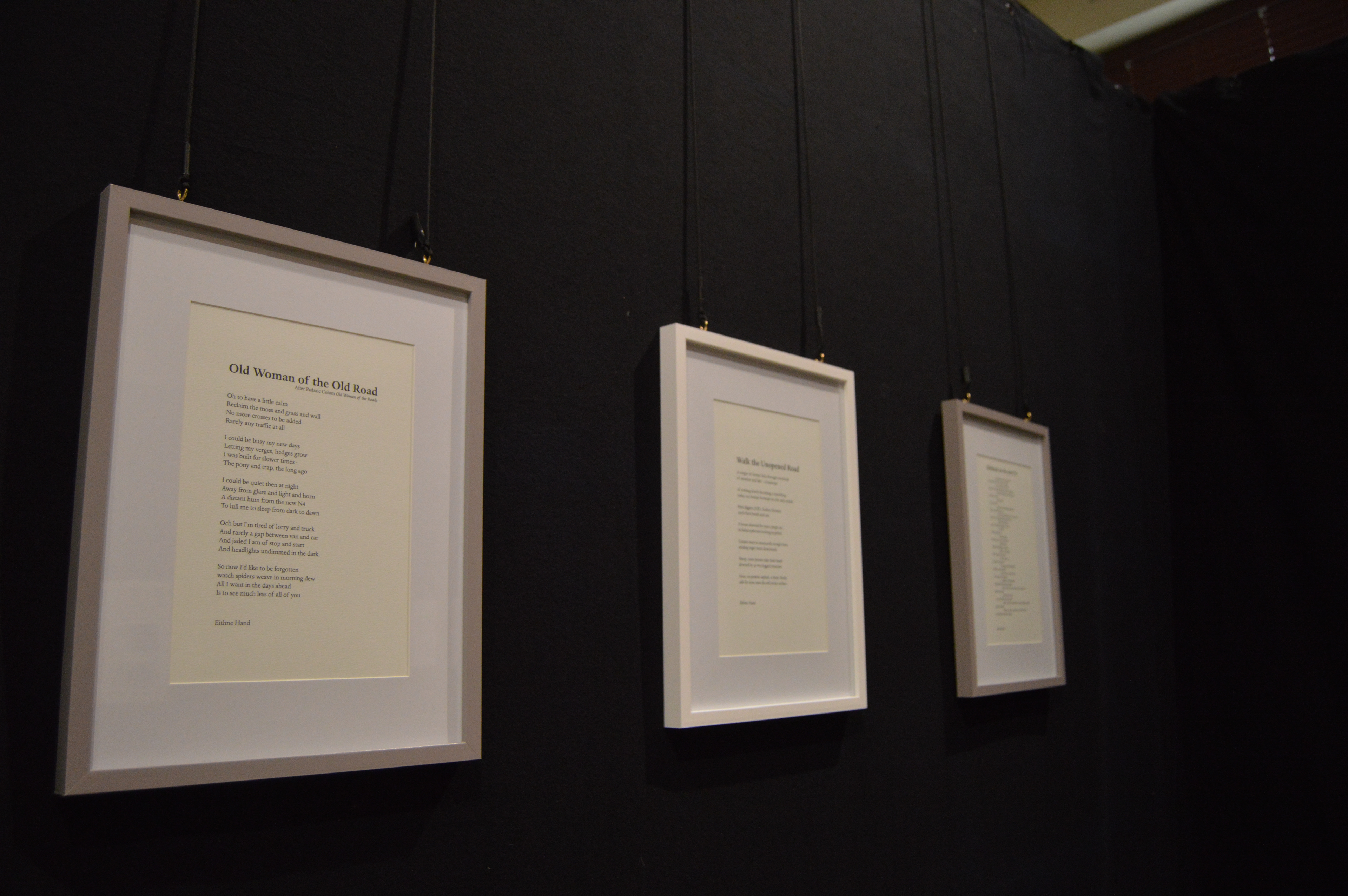 Old Woman of the Old Road
After Padraic Colum Old Woman of the Roads
Reclaim the moss and grass and wall
No more crosses to be added
Rarely any traffic at all
I could be busy my new days
Letting my verges, hedges grow
I was built for slower times -
The pony and trap, the long ago
I could be quiet then at night
Away from glare and light and horn
A distant hum from the new N4
To lull me to sleep from dark to dawn
Och but I'm tired of lorry and truck
And rarely a gap between van and car
And jaded I am of stop and start
And headlights undimmed in the dark.
So now I'd like to be forgotten
watch spiders weave in morning dew
All I want in the days ahead
Is to see much less of all of you
A tongue of tarmac licks through townlands 
of meadow and lake – a landscape 
of nothing slowly becoming a something - 
today, our Sunday footsteps are the only sounds. 
Mini diggers, JCB's, Surface 
Dressers catch their breath and rest. 
A house deserted for years, peeps out, 
its faded eyebrows looking surprised. 
Grasses wave in unnaturally straight lines, 
sending eager roots downwards. 
Sheep, cows, horses raise their heads 
diverted by us two-legged creatures. 
Here, on pristine asphalt, a Hairy Molly, 
safe for now, tests the still sticky surface. 
Tap your Are We There Yet App
Sh, pet I'm just finishing a zoom meeting
                     You never look at the road anymore
But you're not paying attention
                     What if it breaks down – in its mind
Noah, it's not going to break down
You're perfectly safe, I promise
Play one with your brother
Why not sleep for a while
                     I want to go in those fields
                     But I want to see the cows
Watch the Babe movie again
                     Wow, that cow has a white star on its head
…if you look out too much.
                     Mum, all the mountains here have pimples on top?
                     They do – there's another one. Why do they?
I don't know. Ask Google.